THE PET GOAT RECORDS WEBSTORE!!!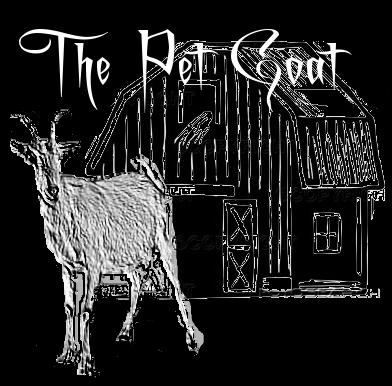 huachamero(AT)yahoo.com

scroll down to see all physical releases: CDs, tapes, 7"s
NET RELEASES

DISTRO

VIDEOS (Watch live sets & music videos)

THE PET GOAT RECORDS BANDS, links to pages, etc.


A Noise Tribute to Rudimentary Peni-The Pet Goat #92
USA $7
WORLD $9


1. "Nightgaunts" Lycanthrope Legions of Noise
2. "The Rain" Clutches
3. "Annihilation" Rape-X
4. "I'm a Dream" Silver Moult
5. "Zenophobia/Gentlemen Prefer Blood" Iron Oxide
6. "Only Death" Shibek Shibek
7. "Tower of Weakness" Mother
8. "A Handful of Dust" жертва талидомида
9. "Crazed Couplet" Botched Facelift
Limited 25 hand-numbered CD-Rs
click here to preview tracks from the album


+DOG+ "God Bless You _______ Wherever You Are"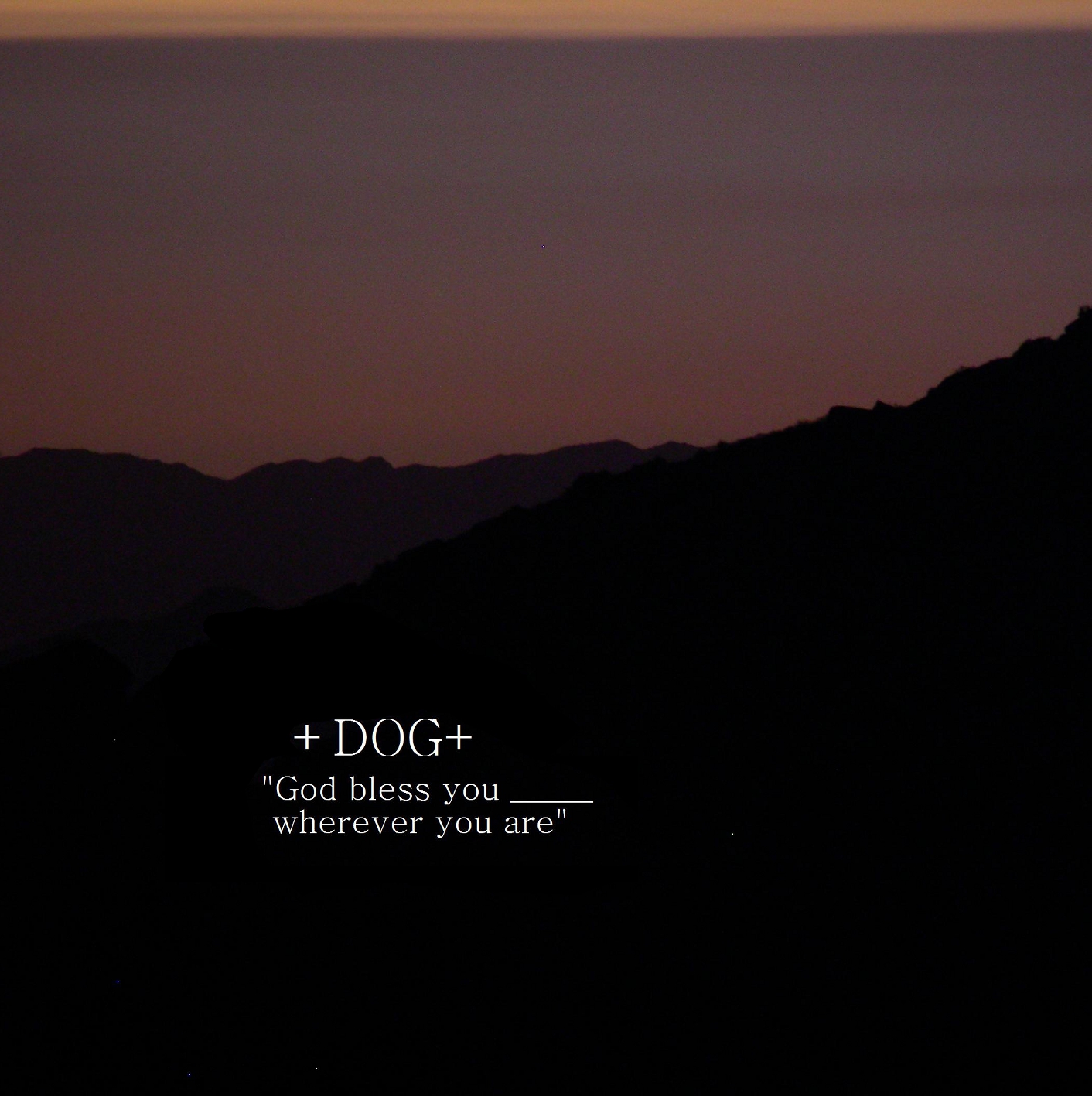 Southern California's +DOG+ lay down some heavy harsh noise! There's a gradual build-up that leads to a crunchy crescendo of feedback loops and concrete textural vibration. This gives way to an intense wall of strident sonic wizardry ala Masonna sounding something like a derailed train colliding with an amplified mountain of scrap metal unleashing a tremendous force of distortion and spirtualized throbbing ultra-sound! Limited edition of 50 hand numbered copies comes in multicolored slim case (blue, red, green, yellow or purple). click here to preview this release
USA $7
WORLD SHIPPING $9


Botched Facelift "Pure Innards" online art installation

interactive online noise art installation

FREE DOWNLOAD PET GOAT 90


Lycanthrope Legions of Noise "Human Blood" CD-r $7





Six tracks of pure Lycanthropic noise mayhem! Distorted synths alternate with short-circuited scratch built oscillators, and brutal screams, growls and howls. One very strange sounds source is a synth that is used to make animal sounds and noises by modeling the vocal tract of animals/humans. This is used to create wolf howls but also to make human type sounds and then straddle the continuum of sounds in between allowing the creation of sounds of animals who do not exist. Click here to listen to samples from the album


USA $7
WORLD $9

Botched Facelift "Total Annihilation of the Ego"



Listen to the sample tracks from the new cassette
New sounds from Botched Facelift include experimental noise, power electronics, and microtonal xenharmonic improvisation on this 90 minute long limited 17 copy tape. Side one begins with "There is no Escape" a harsh noise train wreck with a mangled analog style synth and even more sickeningly mangled and screamed vocals. Next is "Make This Fucking Nightmare End", a heavy-as-fuck industrial/metal/noise track that is as well thought out as it is brutal. The guitar track is a one-shot sample of a "flat fifth power chord" with portamento added and programmed to make a very complex unison line with the bass (a sample of a moog synth). The dissonances created by the portamento on the guitar add some extra noise to the ever-present and often deafening noise created from scratch-built oscillators, modified by variable capacitors and resistors at the transistors before being further mangled by computer programs meant to imitate circuit-bending methods. (Now this music has become an imitation of itself.) "Death Tantra" follows, a track created with the 24 tone system of musical tuning, as opposed to the 12 tone system of harmony usually employed in Western music. Dissonant, psychedelic keyboard improvisations in 24 tone tuning over tampura drone samples and tabla algorithm-rhythms! Power electronics track "Rot in Hell" follows with ultra-sonic analog death throbs, angry vocals shouted and screamed, and over scratchy-glitchy harsh noise. This contrasts with the sounds of "Paranoia" an echoey collage of concrete sampled sounds played randomly over recordings of other people talking and hanging out in their rooms without knowing that a tape recorder was running. Side two begins with "Cock Power" a heavy-as-fuck power electronics track with rumbling analog synth bass and distorted brutal vocals. The track makes good use of feedback loops coupled with exotic "fuck-shit up" technology. "Kapalika" continues explorations with improvisation in the 24 tone tuning system only with the added bonus of textural mangling to the harmony/melody when being improvised. The title track "Total Annihilation of the Ego" concludes the tape in the same vein of power electronics as mentioned before, but with the addition of saxophone improvisation with a tape mangling emulator affecting the horn in real-time. To make a long story short this album is a 90 minute mind-fuck.
$5 US prices include postage


, $7 WORLD


TORTURING NURSE/HAL HUTCHINSON c20 SPLIT TAPE!!!
HARSH NOISE 20 minutes of PURE distorted chaos. China's own Torturing Nurse face off with UK's Hal Hutchinson to make vomitose vibrations of pure aural hatred. Extreme power electronics/pedal noise


USA $5
WORLD $7
|˟˟| gate's "Discomfort" full length CD. experimental japanese jazz noise!!! click add to cart to order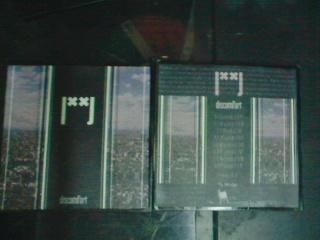 gate "Discomfort" full length CD is an experiment in solo improvisation on multiple instruments simultaneously. some of which are built especially for this or for similar projects. Instruments include electric four string instrument names 'sousen' with one low B bass string, 3 strings made of whatever metal wire available, and with an earth contact for clicks and buzzes, a converted radio, an electric morin khuur [mongolian string instrument played with a bow] and more conventionally an electric guitar and an electric 7 string bass. Instruments change per session. Furthermore between two and eight effects pedals are used- most importantly a delay for the sousen to create rhythms and a pitch shifter for the radio. All sessions are recorded as single track mp3 files and except for some fade in/fade out no changes are made in post production.
USA $7
WORLD $9

get the S/T A Fashionable Disease CD. pet goat/roil noise split release buy the CD for only $7!!!!



U$A $7

WORLD $9
The music on this album changes violently from prog-jazz-punk-future metal noise to straight up metallic grinding harsh noise and everywhere in between. Using pioneering techniques of weirdness while still maintaining harshness and brutality with organized horn arrangements. Striking a perfect balance between composition and improvisation, this album draws from influences as diverse as free jazz artists Sun- Ra and John Zorn's Naked City and Painkiller to crust punk bands such as Dystopia or Rudimentary Peni. Comes with nauseatingly dark psychedelic artwork, and offensive lyrics sheet.

track listing:
1. Pyramid Scheme (8:17)
2. Fuck (2:52)
3. Superbowl in Iraq (3:37)
4. TG8ILMFDH9L (13:51)




ASS JAZZ VOL 1 CD
INTERNATIONAL COMPILATION OF BANDS COMBINING JAZZ (FREE, FUSION, BOP/POST BOP) WITH HEAVY MUSIC (PUNK, METAL, NOISE, GRIND, ETC.) CLICK TO BUY CD

$7 USA
$9 WORLD SHIPPING
FEATURING
New Thrill Parade
Honey Ride Me a Goat
A Fashionable DIsease
Mothguts
Peterhead
Lanz Bulldog
Luc Tonnerre
Wapiti
Young Romantix
Ogogo
Pads and Steel
Dead Daughter
Wozzeck
Thrangh
Happy Meal
J Vasylenko
The Quirx
We be the Echo
Imperial Landfill
I Think I Did Something Wrong


ASS JAZZ VOL 2:
Second international compilation of bands that combine JAZZ with PUNK, NOISE, GRIND, DOOM, METAL, ETC.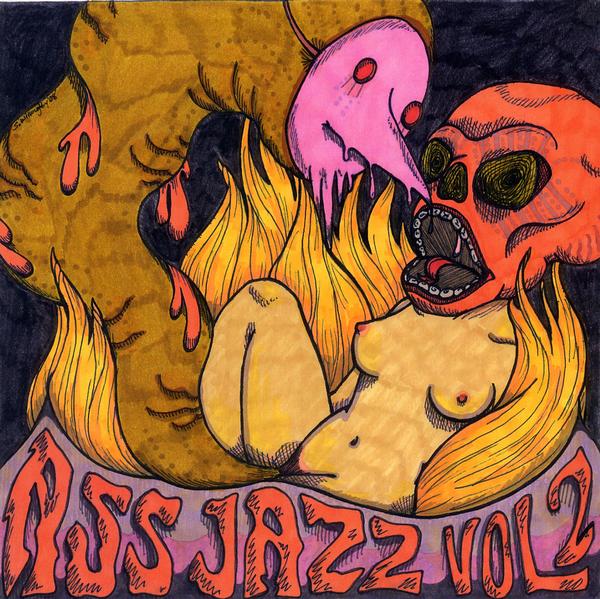 Featuring:
Knifethruhead
Penny Flame
A Fashionable Disease
Sabreteeth
Psychofagist
Spirojki
Artemisia Absinthium
Wasteland Jazz Unit
Chimora
Lost Todos
Raxinasky X+X
Instagon
Isabel Borbon
Botched Facelift
Toy Surprise Inside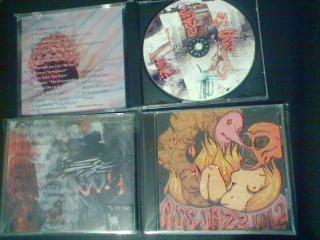 USA $7
WORLD $9




A FASHIONABLE DISEASE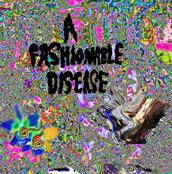 7" $5 in USA

WORLD $7


AQUARIUS RECORDS REVIEW: Totally ass kicking and weirdly fucked brutality fills this little 7" from Santa Cruz's own, A Fashionable Disease! Another one of those what the fuck, seemingly impossible combinations of influences, synthesized in such a unique and successful way, that makes us kind of scratch our heads and lament that we haven't been turned on sooner. How do you describe this? Maybe filthyfreejazzcrustyfiedsatanicdamagedgrindpunkavantskronk? Or maybe just Crass meets Ayler meets Pig Destroyer meets Sun Ra meets Schoenberg meets Anal Cunt meets Mahavishnu. We don't fucking know, but it rules! Super demented, ultra damaged grind-jazz, complete with horn section! Putrid angular metallic guitar discordance, feculent terrorist manifesto screeched vocals, growling horns, blasting drums. The first cut, "Veal Medallions" starts with a blast of feedback before hurling into a psychotically chromatic guitar and piano line, ending up in a blasting tumult of throat tearing vocals and frenetically crazed drumming! Some of the lyrics from this number kind of sum up what these fellas are about... "skulls converge ruins/ rainbows ejaculate onto your face/ quiet in the piss-stained evening/ spring wind blows perfume of 1,000 rotting carcasses...". Fuck yes. The rest of the 7" is just as killer. Totally fucked and totally great! For fans of Zorn, Bathtub Shitter, Rudimentary Peni, Crass, Coltrane, Dystopia, Cecil Taylor, or anything filthy, proggy, grindy, avant-jazzy, and totally shredding! Recommended!
7" Contains the tracks: Veal Medallions, Sex With Dead Soldiers, and The Contractor




huachamero@yahoo.com


click below to navigate the site!

NET RELEASES

DISTRO

VIDEOS (Watch live sets & music videos)

THE PET GOAT RECORDS BANDS, links to pages, etc.